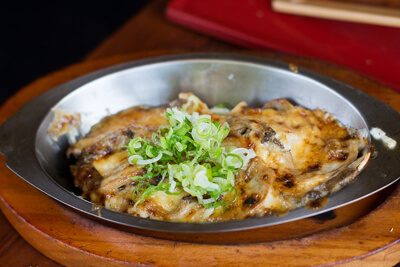 Yu Me Ya - Sake House
1246 N Coast Hwy 101
Encinitas, CA 92024
(760)633-4288
Yu Me Ya Sake House is a family dream come true. A dream to bring traditional Japanese home-style cooking to the community of Encinitas. It is a simply incredibly, quaint family owned and operated restaurant offering unique and authentic Japanese tapas style food. They have a wonderfully extensive Sake list, with sake of various grades and regions of Japan, as well as a comfortable atmosphere with fine food for everybody. You will particularly love their homemade udon noodles or their spicy tuna carpaccio! They truly have something for everybody at Yu Me Ya!
Peace Pies
133 Daphne St
Encinitas, CA 92024
(760)479-0996
If you are looking for a delightful, healthy place with an always positive attitude to head to for your lunch then you simply must try Peace Pies on Daphne Street. They offer absolutely amazing and always fresh, award winning raw and eco-raw food. They provide raw, vegan, gluten, and soy-free foods to the members of the community and beyond. They offer a full menu that consists of pies, pizzas, crisp salads, wraps, entrees, dried goods, delectable desserts, chocolates, and accessories! With deep, personal relationships with a number of local farms who supply them with wonderfully fresh local ingredients, you can be sure that you will always be eating fresh and supporting the community in the process. They also have a zero-waste policy at Peace Pies, wherein they compost their food scraps and use earth friendly packaging.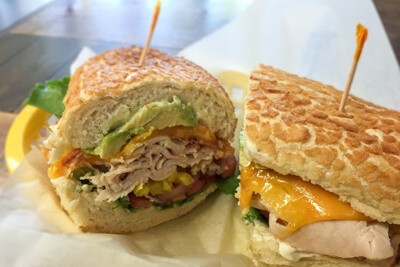 The Sandwich Spot
90 N Coast Hwy Ste 103
Encinitas, CA 92024
(760)230-2147
When you're out on the prowl for a place to grab some amazing, expertly crafted sandwiches made with always fresh deli meat then you simply must try The Sandwich Spot. They offer a unique blend in their menu of amazing, classic sandwiches that you love and some unique creations that you will be sure to love trying. They have all sorts of wonderful servers and employees there who proudly use fresh ingredients in each and every sandwich, and they always make each sandwich to absolute perfection. We strongly suggest the Bob Gnarly or the Miami Heat!