The Wooden Spoon Restaurant
805 E Valley Pkwy
Escondido, CA 92025
(760)745-0266
The folks at The Wood Spoon Restaurant provides only the highest quality and most fresh food possible that has been sourced directly from local San Diego farms and artisans. They make sure that their ingredients and produce are organic when possible, they are GMO-free, sustainable, and natural. Their food is always made with the utmost amount of care and passion for their customers. You will be blown away by each visit to The Wooden Spoon Restaurant.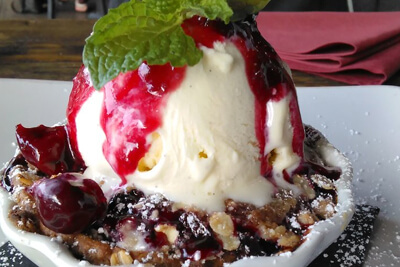 Intertwined Bistro & Wine Bar
113 E Grand Ave
Escondido, CA 92025
(760)432-9839
Specializing in eclectic fusion cuisine, Intertwined Bistro & Wine Bar is a great establishment in freshness and presentation. They offer a wonderful atmosphere complete with a "living room" lounge area that's absolutely perfect for happy hour. With 35 beers and over 45 wine choices, Intertwined Bistro & Wine Bar is a wonderful establishment that you will be sure to love. Intertwined Bistro & Wine Bar is everything that you could like in a relaxing place to grab a drink.
Stone Brewing World Bistro & Garden
1999 Citracado Pkwy
Escondido, CA (2029
(760)294-7866
If you're looking to enjoy a delicious meal or a great pint of your favorite beer then you will absolutely love the dynamic of the wonderful Stone Brewing World Bistro & Garden. With their incredible, expansive interior, their beautiful open air patio,a nd their one acre organic beer garden, they are the complete package. They proudly specialize in locally ground, small farm ingredients, and they feature an eclectic menu with world inspired cuisine and a unique take on comfort food.