Learn About Our
When traveling in Southern California and the area of San Diego, especially for your most important parties and celebrations, the essential choice has got to be San Diego Limousine. We've built up a solid reputation over the years, and our loyal customers will be more than happy to tell you that our buses are the best in the state. Believe us wen we say you're in for a treat when you travel with San Diego Limo Buses!
If a major event is coming up on your party radar, such as a bachelor or bachelorette party, a wedding, a San Diego sporting event, or even a night of club hopping at all the wildest destinations that Southern California serves up, our goal is to have San Diego Party Bus pop up first in your mind as the #1 choice for an incredible ride and the safest and most affordable trip too. Party Bus San Diego is the one to trust.
There's no reason to settle for a cramped San diego limousine or, even worse, your own fleet of cars trying to follow each other on the freeway, getting lost and running out of gas at the most inopportune times, and requiring multiple fill-ups when gas prices are at their most expensive in history. You have been there, and you don't want to do it again! You can do better right now by choosing our comapny, and you can lock down a San Diego Party Bus price right now, totally free with no obligation. Contact info is at the top of every page of the site, so get in touch when you're ready!
We hope you'll enjoy browsing through all of the content that we've put together for you, including important background information on our company, detailed information about our incredible fleet of limo bus vehicles, and even some info about our super conscientious professional chauffeurs who are really the backbone of our business. Of course there are plenty of picture of our party buses so you can get a feel for what you'll be enjoying when on the road with us. If you've got any questions for us that we haven't answered here, you know where to reach us! We look forward to making that connection and making your trip amazing.
Buses to Rent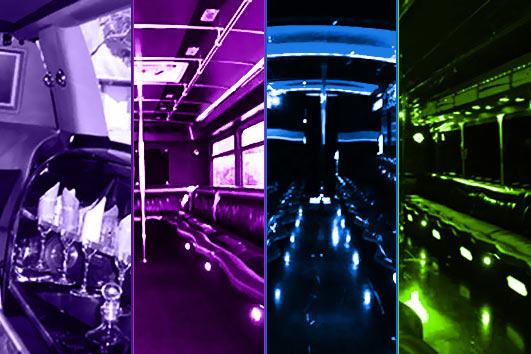 Our Hottest Features
Plenty of custom seating for as many of your friends as you'd like to invite to the party
Super classy exteriors that make a big impression to passersby on the road
Super flashy interiors that make an even bigger impression on your friends!
Bars to stock with drinks, including bottled water, sports drinks, coffee, tea, and alcoholic beverages
Amazing entertainment effects including color-changing LED lights
HDTVs, Powerful stereo, lighting, and so much more